Opportunity Details
Fire Prevention and Invasive Species Removal - Earth Day April 23, 2022
To help keep our community safe, the Pt. San Pedro Road Coalition (SPRC) is sponsoring a family-friendly fire prevention weed pull on Saturday, April 23 from 9 AM to 1 PM. Partnering with the SPRC are the Friends of China Camp (FOCC), Center for Volunteer and Nonprofit Leadership (CVNL), San Pedro Ridge Fire Safety, and San Rafael Fire. The San Rafael Office of Emergency Services will be providing tools for our volunteers.
We will gather in San Rafael to clear fire-prone invasive vegetation species along the Shoreline Trail from Biscayne Drive eastward toward North San Pedro Road. If you can join us, please do! Even if you are unable to pull weeds, we can still use volunteers in other ways!

All volunteers must sign the attached waiver before participating! Please sign, scan, and email awendt@cvnl.org with the completed waiver. If you have difficulty scanning the signed waiver, you can bring the completed waiver with you the day of.
Volunteers will be able to work in shifts from 9 am-11 am or 11 am-1 pm.
Please bring or wear:
long pants
close-toed shoes
gloves
safety glasses
a hat
sunscreen
a water bottle
a snack
We also suggest a long sleeve shirt or jacket and long pants to protect from poison oak or ivy.
We hope you will join us to make the community wildfire safe.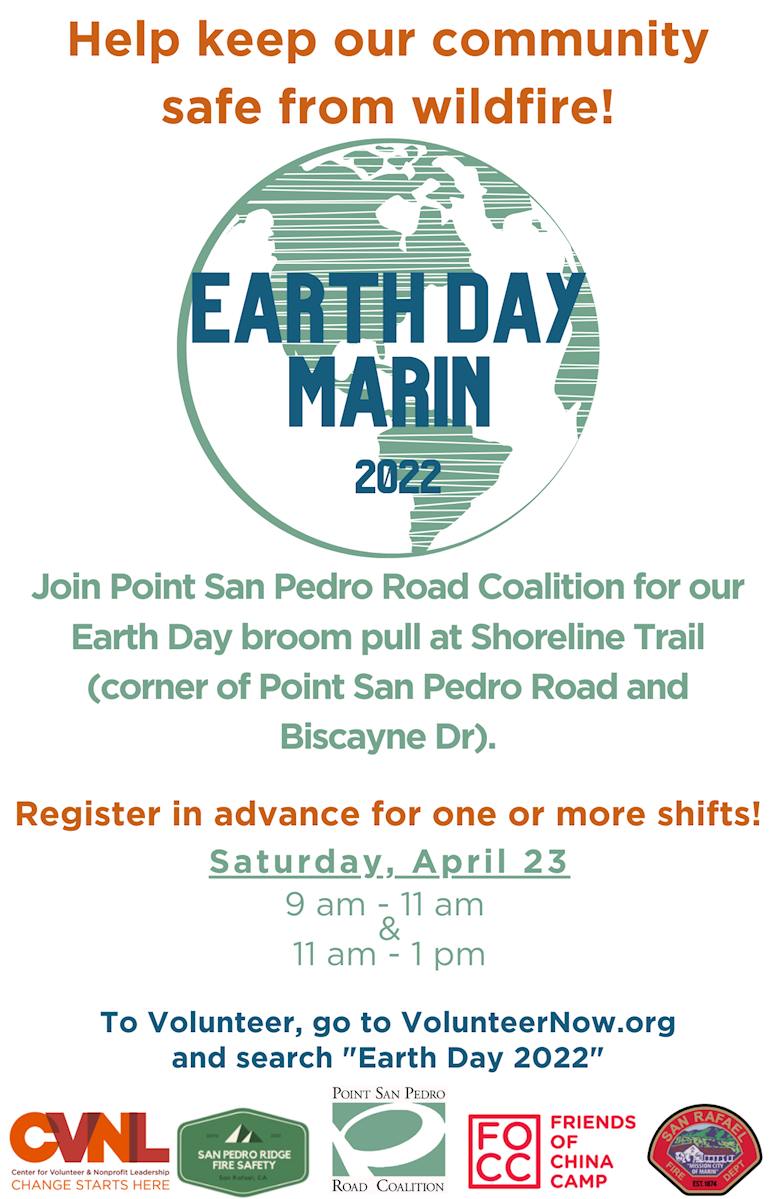 #earthday2022
Animals, Families, Homeless
Age Minimum (with Adult): 13+, Minimum Age:18+
Please wait...
Log in or Register
In order to register for this opportunity you must log in to an existing account or register to create a new account.
Sign up with a team
This link allows you to participate in this opportunity with a team. When you click on the link you will have the option to:
Choose an existing team you're already a member or captain of, or
Create a new team to sign up.
Signup Questions
Please respond to the following questions in order to signup for this opportunity:
Please wait...
E-mail